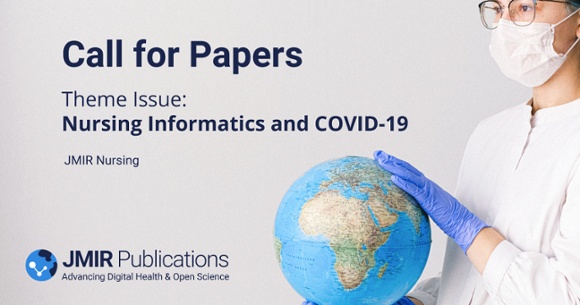 Frontline nurses, public health nurses, telehealth nurses, nurse practitioners and nursing informatics professionals are working together to address the COVID-19 pandemic. Nurses are working to ensure the right technologies are available in acute care, public health, telehealth primary care, virtual care, and home care so that patients can be monitored, social distance can be maintained, exposures to COVID-19 can be mitigated and citizens can effectively be supported and treated (should they contract the disease).
Technology has become an integral and essential aspect of fighting COVID-19. The aim of this special issue is to document the role of new and existing technologies designed, re-purposed and utilized by nurses to provide care to COVID-19 patients. We need to understand what technologies are being used and how they have been used to prevent transmission of disease, mitigate the spread of COVID-19 and treat patients. Nurses are encouraged to describe the technologies that they have been involved in designing, developing, implementing and repurposing with a focus on COVID-19.
In this special issue, we are soliciting papers that may include, but not limited to, the following topics:
Developing new decision support tools to support nurse decision making involving COVID-19.

Customizing or adding features and functions to the electronic health record that support treatment of COVID-19 patients.

Public health informatics tools that are used by public health nurses to trace citizen contacts with the disease.

Telehealth decision support systems and electronic health records that support citizen information seeking and/or remote management during COVID-19.

Mobile or smart phone apps used by nurses to manage citizen health during the COVID-19 pandemic.

Remote monitoring tools for managing those exposed to COVID-19 tools in their homes.

Remote monitoring technologies for vulnerable patients who are in need of social distancing technologies during the COVID-19 epidemic.

Systems and technologies that have been designed, built and implemented to support nursing care during the COVID-19 crisis.

Electronic educational platforms to support education and learning by nurses and other health professionals regarding personal protective equipment, the latest treatments and monitoring approaches for COVID-19.
We encourage you to document and disseminate your research and experiences in this area in the fight against COVID-19.
Other JMIR journals are also soliciting COVID-19 papers which will be prioritized for peer review and publication. As with all JMIR journals, fast-tracking is also available for even faster peer review and editorial decisions.
All articles submitted to this theme issue will be shared and published rapidly through the following mechanisms:
JMIR Preprints

(

example

) are immediately available after submission (with

DOI

); authors should select the preprint option on submission. Preprints already submitted to MedRxiv can be transmitted to JN via the

M2J

interface

Free

"

PubMed Now!

" feature, ensuring that the paper is submitted to and searchable on PubMed within 24 hours after acceptance (fees are waived)

All peer-reviewed research publications in this theme issue are immediately and permanently made open access—this is of course the standard for JMIR journals

Special tagging of the XML of the published paper for priority release on PubMed Central (in collaboration with NCBI)
Questions regarding this Theme Issue should be directed to JMIR Nursing Editor-in-Chief, Elizabeth Borycki, RN, PhD, FIAHIS, FACMI, FCAHS, emb@uvic.ca or the editorial team at ed-support@jmir.org.
How to submit
Please submit to JMIR Nursing by selecting "Theme Issue: Nursing Informatics and COVID-19" in the "Section" drop-down list.
See also "How do I submit to a theme issue?" in our knowledge base.